DuPage Community Arts Festival
Saturday May 28,2022 – 7:30PM @ DuPage County Fairgrounds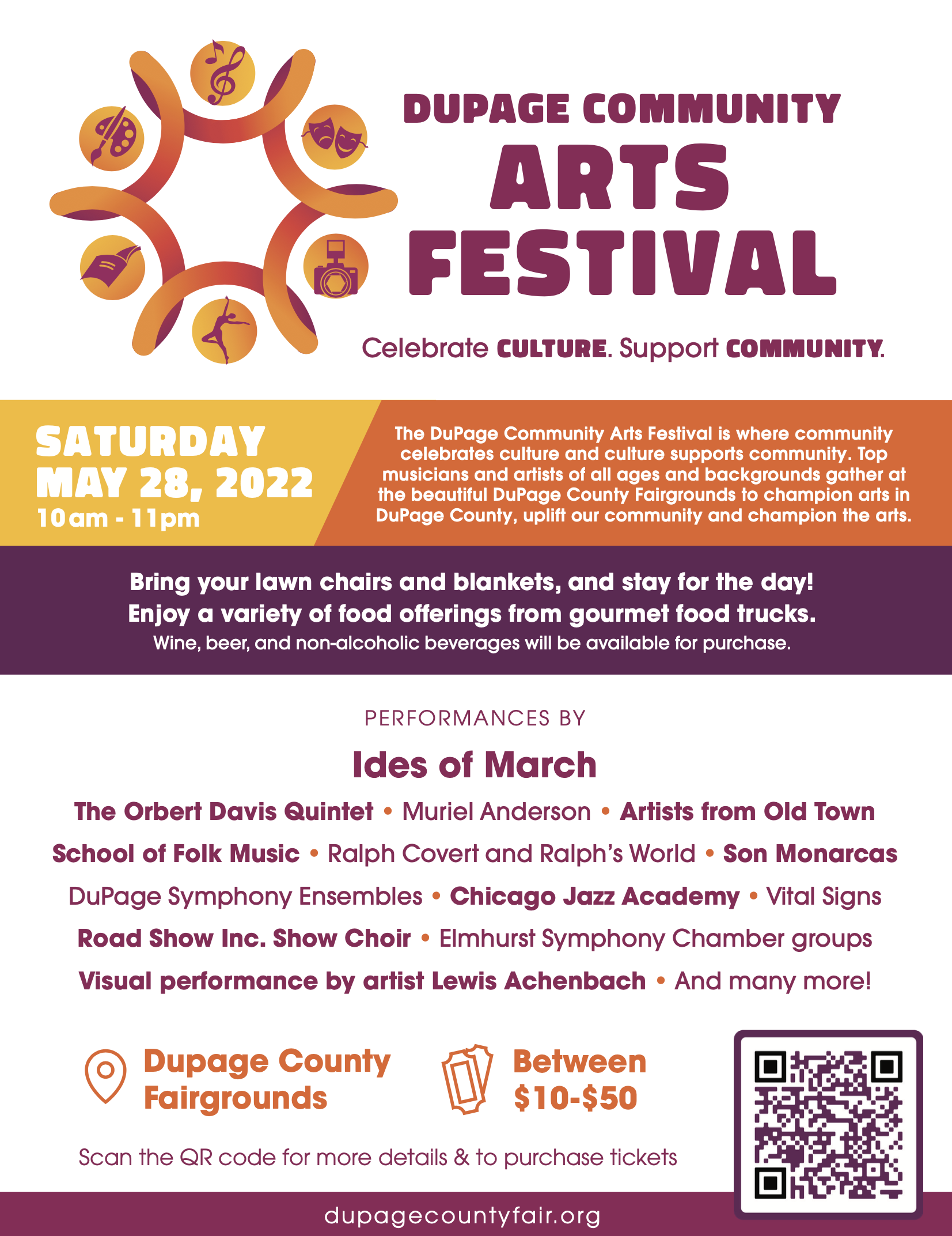 DuPage County will host its inaugural Community Arts Festival on May 28 at the DuPage County Fairgrounds. The festival will have three stages with musical acts, along with food trucks and a beer tent providing refreshments. Local community artists will be showcasing and selling their work throughout the festival.
Groups scheduled to perform during the festival include the headline act, Ides of March, and others including the Orbert Davis Quintet, Muriel Anderson, Ralph Covert and Ralph's World, Son Monarcas, the DuPage Symphony Ensembles, the Chicago Jazz Academy, Vital Signs, the Road Show Inc. Show Choir, Elmhurst Symphony Chamber groups, and many more, including a visual performance by artist Lewis Achenbach.
Come celebrate what inspires us, moves us, connects us, grows us, and heals us.
OPEN TO PUBLIC:
Saturday, May 28th, 2022 from 10am – 11pm.
Location: North Grounds, DuPage County Fairgrounds – 2015 Manchester Road Wheaton, IL 60187
TICKETS:
| | |
| --- | --- |
| Presale: | At the gate: |
| $20.00 – Adult | $25.00 – Adult |
| $10.00 – Children Ages 3-12 | $12.00 – Children Ages 3-12 |
| $50.00 – Family Pass | $60.00 – Family |
| FREE – Children under 3 | FREE – Children under 3 |
Chicago Legends for Ukraine Benefit Concert
Friday April 1, 7:30PM @ Chopin Theatre


MORE INFORMATION:
CHICAGO, IL–Chopin Theatre and Ukrainian Institute of Modern Art will bring together some of Chicago's biggest music names for a special, one-night-only event to raise funds for the people of Ukraine.  All of the proceeds from ticket sales and all donations collected will be contributed to the National Bank of Ukraine for humanitarian aid.
The concert will include performances by many renowned musicians, including Orbert Davis, trumpet; Leandro Lopez Varady, piano; Marlene Rosenberg, bass; Steven Eisen, tenor saxophone; Josh Ross, drums; Lynne Jordan, vocals; Raymond Glower, keyboard; Mike Jackson, saxophone; Grazyna Auguscik, vocals; Ivan Shmilo, bandura; Olga Tsvyntarna, vocals; Trioda, vocals, and others.
Beyond financial aid, the concert will spread a message of hope and support for the victims of the ruthless unprovoked Russian war in Ukraine.
"It was a defining moment for us.  We didn't want to be absent.  We performed in Kyiv years ago at Independence Square to a welcoming audience of thousands and we want to share our support for our friends," said Orbert Davis, Emmy Award winning composer, trumpeter, and band leader. here.  Space is limited, and early ticketing is recommended.  There will be a free light reception following the concert.  Donations are made payable to UIMA,  a 501(c)(3) non-profit organization.  Your donation is tax deductible as allowed by law.
Lynne Jordan,  beloved for her soaring voice in blues, jazz, funk, rock, and great storytelling, said,  "I will be singing to bring hope to every child and mother and all those who are forced to flee their homes, and in solidarity with the people of Ukraine of every ethnic, racial and religious background.  We are one human race." Tickets are on sale online 
Orbert Davis – Soul Migration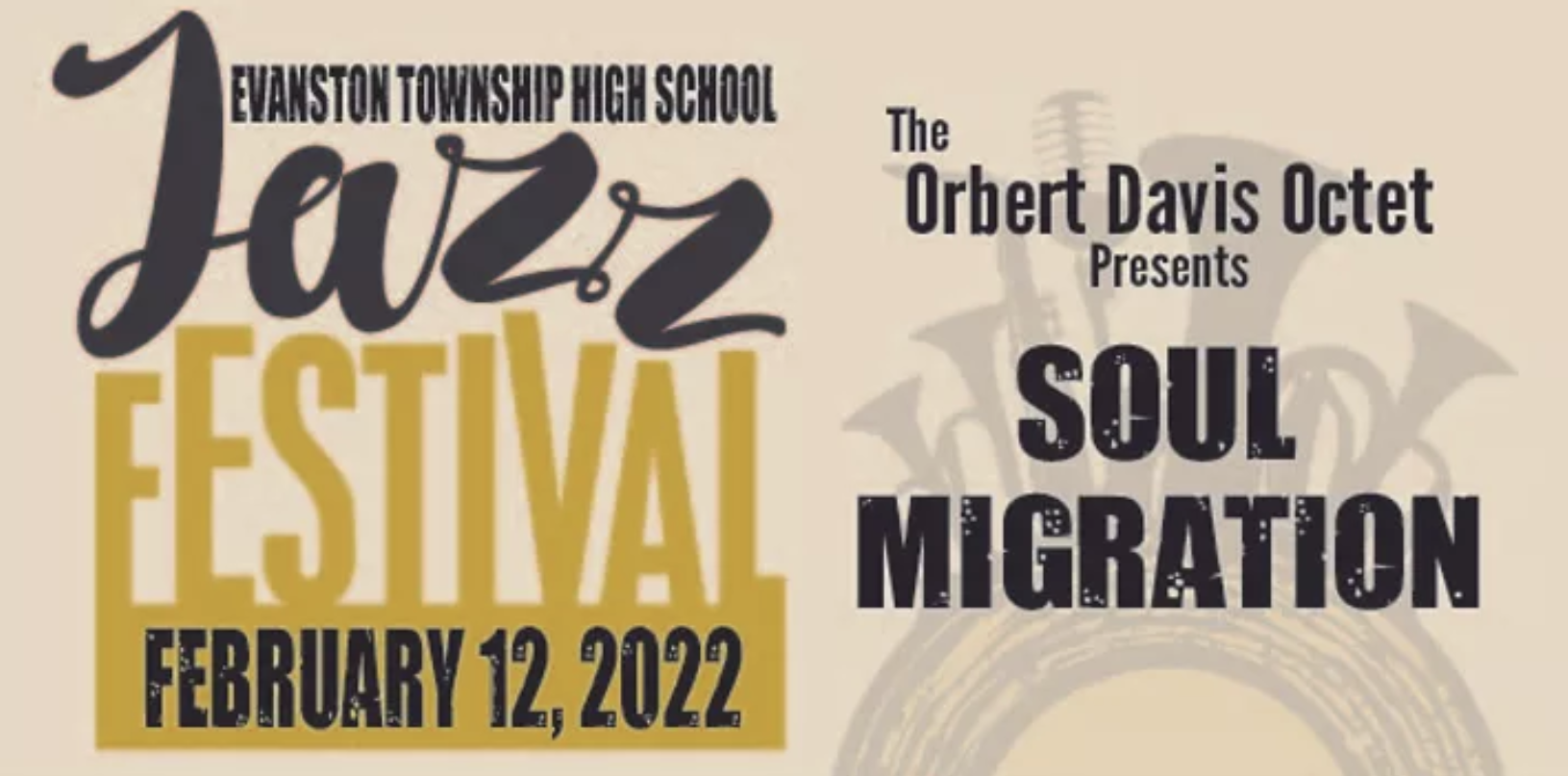 SATURDAY, FEBRUARY 12, 2022
7:00pm
Evanston Township High School Main Auditorium – 1600 Dodge Avenue
4:30PM SPECIAL PRESENTATION (MAIN AUDITORIUM): ORBERT DAVIS & MEMBERS OF SOUL MIGRATION OCTET
This special presentation will include insight on playing in big band/combo settings, improvisation techniques, composition, and more—including audience Q and A! Be sure to get your tickets for the evening performance featuring the Orbert Davis Soul Migration Octet with an opening performance by the ETHS Jazz Ensemble!
7:00PM FEATURED EVENING CONCERT (MAIN AUDITORIUM): ORBERT DAVIS SOUL MIGRATION
The ETHS Jazz Festival is excited to welcome Orbert Davis, jazz trumpeter and founder of the Chicago Jazz Philharmonic, as our evening talent and featured guest artist. Orbert's composition for the performance, titled "Soul Migration," draws on the stories of some of the 6 million African Americans who took part in what is known as the Great Migration, moving from the rural south to the industrial north beginning a century ago. Premiered at the 2016 Chicago Jazz Festival, "Soul Migration" features an octet of musicians from Orbert's Chicago Jazz Philharmonic.