Chicago Love Pops: A Celebration of Louis Armstrong
Thursday, October 20, 2022 – 7:00PM @ Logan Center for the Arts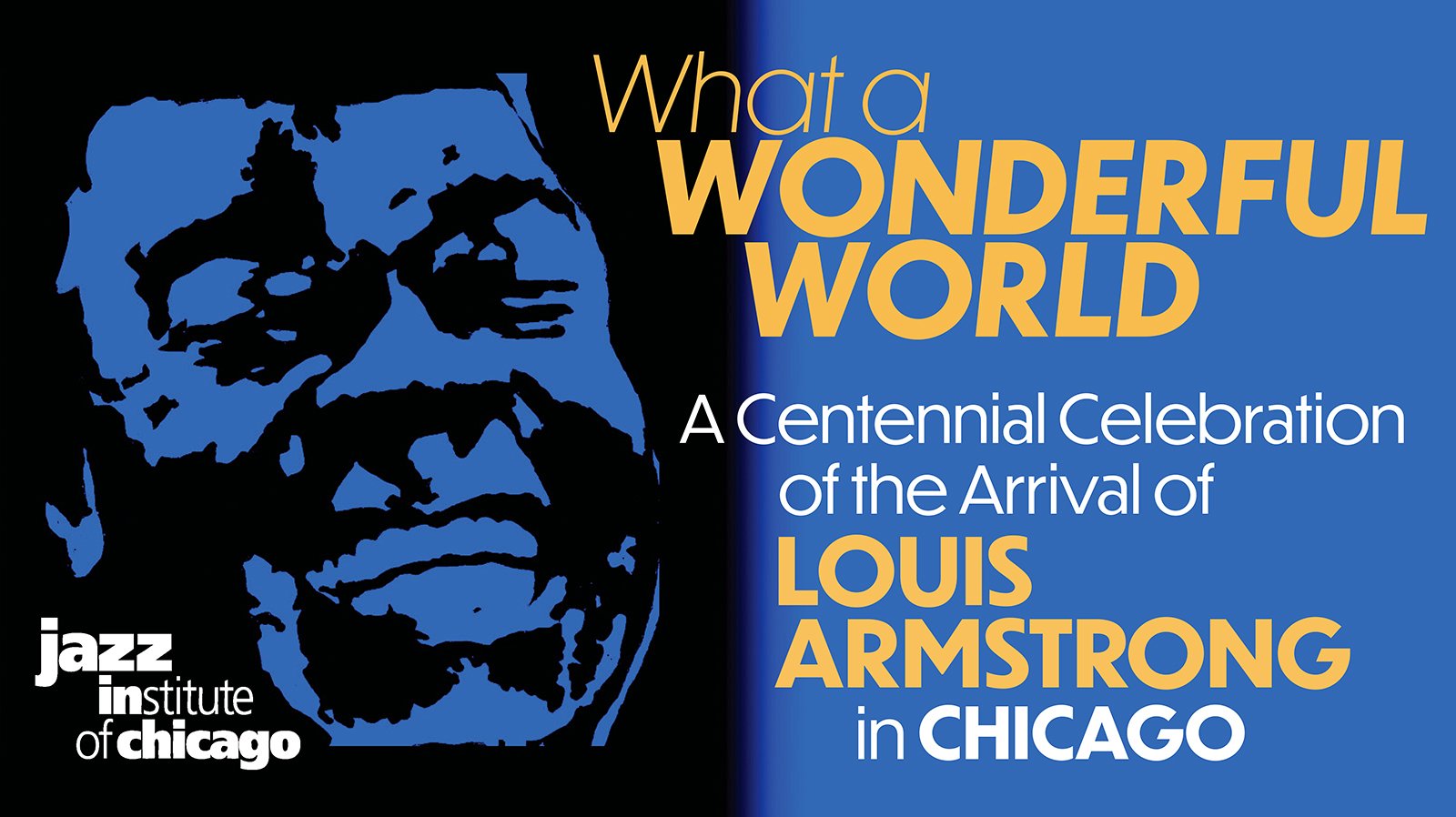 Trumpet greats Orbert Davis, Corey Wilkes, and Maurice Brown pay homage to the great Louis Armstrong, who arrived in Chicago 100 years ago and changed jazz forever.
JAZZ INSTITUTE OF CHICAGO CELEBRATES THE CENTENNIAL OF LOUIS ARMSTRONG TO CHICAGO
THE JAZZ INSTITUTE OF CHICAGO IS PROUD TO CELEBRATE THE 100TH ANNIVERSARY OF JAZZ PIONEER LOUIS ARMSTRONG'S ARRIVAL IN CHICAGO. ALL THROUGH 2022 THE JAZZ INSTITUTE WILL OFFER CONCERTS, EXHIBITS, FILMS, PANEL DISCUSSIONS, AND EDUCATIONAL PROGRAMS.
Orbert Davis Sextet – 2022 Hyde Park Jazz Festival
Sunday, September 25, 2022 – 2:00PM @ Wagner Stage, Midway Plaisance at South Woodlawn Ave.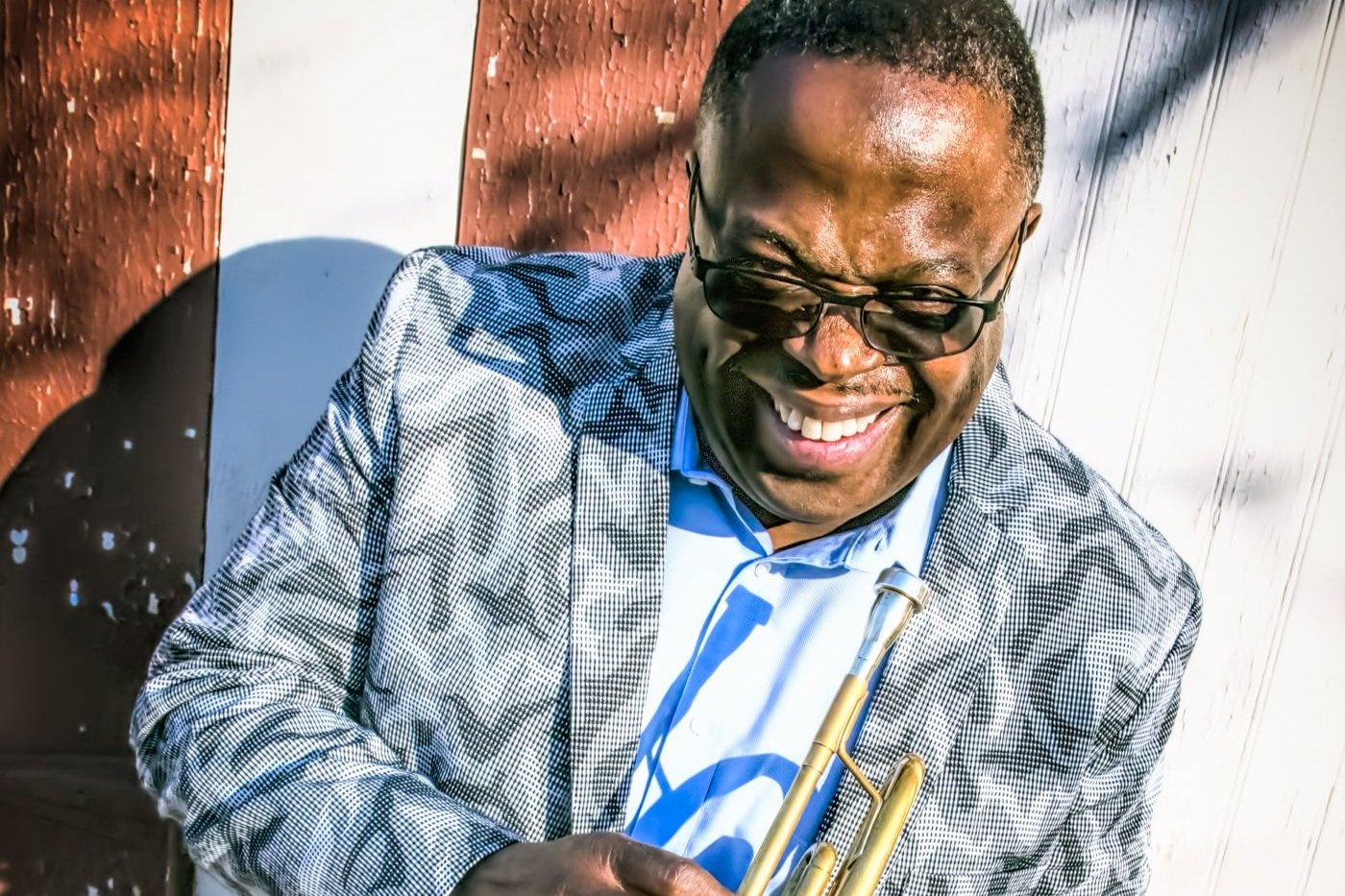 It's no wonder DownBeat dubbed trumpeter, composer, and educator Orbert Davis "Orbert, Inc." in their four-page feature story, in which they marveled at Davis' expansive career and list of accomplishments.
An established leader in Chicago's arts and culture communities, Davis is co-founder, conductor, and artistic director of Chicago Jazz Philharmonic, a 55+ piece symphonic jazz orchestra dedicated to bringing together audiences of diverse backgrounds through multi-genre projects. He is widely respected not only for his work related to all things jazz, but also for his commitment to using arts education and advocacy to enact positive change in society.
In addition to the music education work he does through CJP, Davis also co-owns and operates Discover Music: Discover Life, Inc., a company that develops curriculum and implements programs that uses music to teach academic and life skills.  
As a composer, Davis has many commissions to his credit, including the score to the PBS documentary DuSable to Obama: Chicago's Black Metropolis, for which he won an Emmy. He also won a Jeff Award for Best Original Music in a theater performance for Paradise Blue. His most recent recording, The Chicago River, was commissioned by Symphony Center Chicago to accompany a cinemagraph about the city's historic turn-of-the-century reversal of the river's flow.
Davis has a Bachelor's degree in trumpet performance from DePaul University, a Master's degree in Jazz Pedagogy from Northwestern University, and an Honorary Doctorate of Humane Letters from Governors State University. He is a former Associate Professor at the University of Illinois at Chicago and Artist-in-Residence at Columbia College Chicago.
The musicians:
Orbert Davis – trumpet
Leandro Lopez Varady – piano
Stewart Miller – bass
Ernie Adams – drums
Rajiv Halim – tenor sax
John Moulder – guitar
Havana Blue
Saturday, September 24, 2022 – 7:00PM @ Kehrein Center for the Arts
 "Havana Blue," is a symphonic jazz work inspired by the sights, sounds and people of Cuba, as interpreted by Chicago Jazz Philharmonic Co-Founder and Artistic Director, Orbert Davis.
First inspired by Davis' exploratory trip to Cuba in October 2012,"Havana Blue" is the beginning of the extraordinary journey that led to Chicago Jazz Philharmonic's relationship with the Universidad de las Artes (ISA) – a residency that eventually coincided with the historic normalization of relations between the U.S. and Cuba in December 2014.
Premiering at Chicago's Auditorium Theatre in 2013, this production tells the multi-faceted story of Cuban culture and brings out the many flavors of passion, romance, angst, energy and uncertainty that are embedded in a tumultuous society. From a joyous celebration in the streets of Havana, to a dramatic, intense journey out of a devastated country, the piece infuses Cuban rhythm with pure emotion."Havana Blue" explores the similarities between African Cuban rhythms and culture, and conveys the art and strength that gives
Cuba its special place in the world. 
This is the second of a three-concert partnership with the Kehrein Center for the Arts in Chicago's Austin neighborhood. Opened in 2019, the partnership aims to help realize the Kehrein Center's goal of becoming a cultural home on Chicago's West Side. Chicago Jazz Philharmonic is dedicated to removing barriers to access to the arts – that's why we are charging just $1.00 per ticket.
DuPage Community Arts Festival
Saturday, May 28, 2022 – 7:30PM @ DuPage County Fairgrounds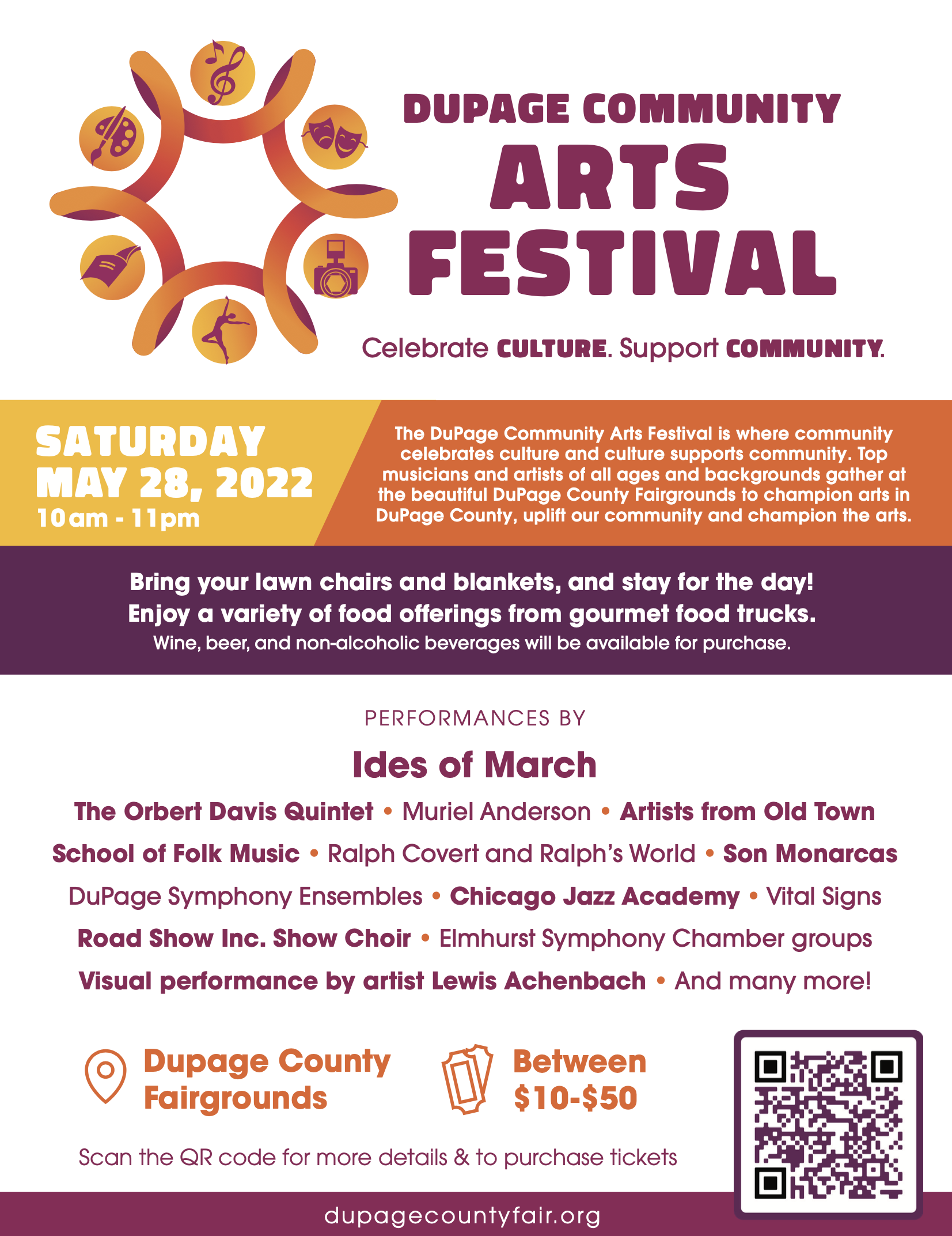 DuPage County will host its inaugural Community Arts Festival on May 28 at the DuPage County Fairgrounds. The festival will have three stages with musical acts, along with food trucks and a beer tent providing refreshments. Local community artists will be showcasing and selling their work throughout the festival.
Groups scheduled to perform during the festival include the headline act, Ides of March, and others including the Orbert Davis Quintet, Muriel Anderson, Ralph Covert and Ralph's World, Son Monarcas, the DuPage Symphony Ensembles, the Chicago Jazz Academy, Vital Signs, the Road Show Inc. Show Choir, Elmhurst Symphony Chamber groups, and many more, including a visual performance by artist Lewis Achenbach.
Come celebrate what inspires us, moves us, connects us, grows us, and heals us.
OPEN TO PUBLIC:
Saturday, May 28th, 2022 from 10am – 11pm.
Location: North Grounds, DuPage County Fairgrounds – 2015 Manchester Road Wheaton, IL 60187
TICKETS:
| | |
| --- | --- |
| Presale: | At the gate: |
| $20.00 – Adult | $25.00 – Adult |
| $10.00 – Children Ages 3-12 | $12.00 – Children Ages 3-12 |
| $50.00 – Family Pass | $60.00 – Family |
| FREE – Children under 3 | FREE – Children under 3 |
Chicago Legends for Ukraine Benefit Concert
Friday, April 1, 2022 – 7:30PM @ Chopin Theatre


MORE INFORMATION:
CHICAGO, IL–Chopin Theatre and Ukrainian Institute of Modern Art will bring together some of Chicago's biggest music names for a special, one-night-only event to raise funds for the people of Ukraine.  All of the proceeds from ticket sales and all donations collected will be contributed to the National Bank of Ukraine for humanitarian aid.
The concert will include performances by many renowned musicians, including Orbert Davis, trumpet; Leandro Lopez Varady, piano; Marlene Rosenberg, bass; Steven Eisen, tenor saxophone; Josh Ross, drums; Lynne Jordan, vocals; Raymond Glower, keyboard; Mike Jackson, saxophone; Grazyna Auguscik, vocals; Ivan Shmilo, bandura; Olga Tsvyntarna, vocals; Trioda, vocals, and others.
Beyond financial aid, the concert will spread a message of hope and support for the victims of the ruthless unprovoked Russian war in Ukraine.
"It was a defining moment for us.  We didn't want to be absent.  We performed in Kyiv years ago at Independence Square to a welcoming audience of thousands and we want to share our support for our friends," said Orbert Davis, Emmy Award winning composer, trumpeter, and band leader. here.  Space is limited, and early ticketing is recommended.  There will be a free light reception following the concert.  Donations are made payable to UIMA,  a 501(c)(3) non-profit organization.  Your donation is tax deductible as allowed by law.
Lynne Jordan,  beloved for her soaring voice in blues, jazz, funk, rock, and great storytelling, said,  "I will be singing to bring hope to every child and mother and all those who are forced to flee their homes, and in solidarity with the people of Ukraine of every ethnic, racial and religious background.  We are one human race." Tickets are on sale online 
Orbert Davis – Soul Migration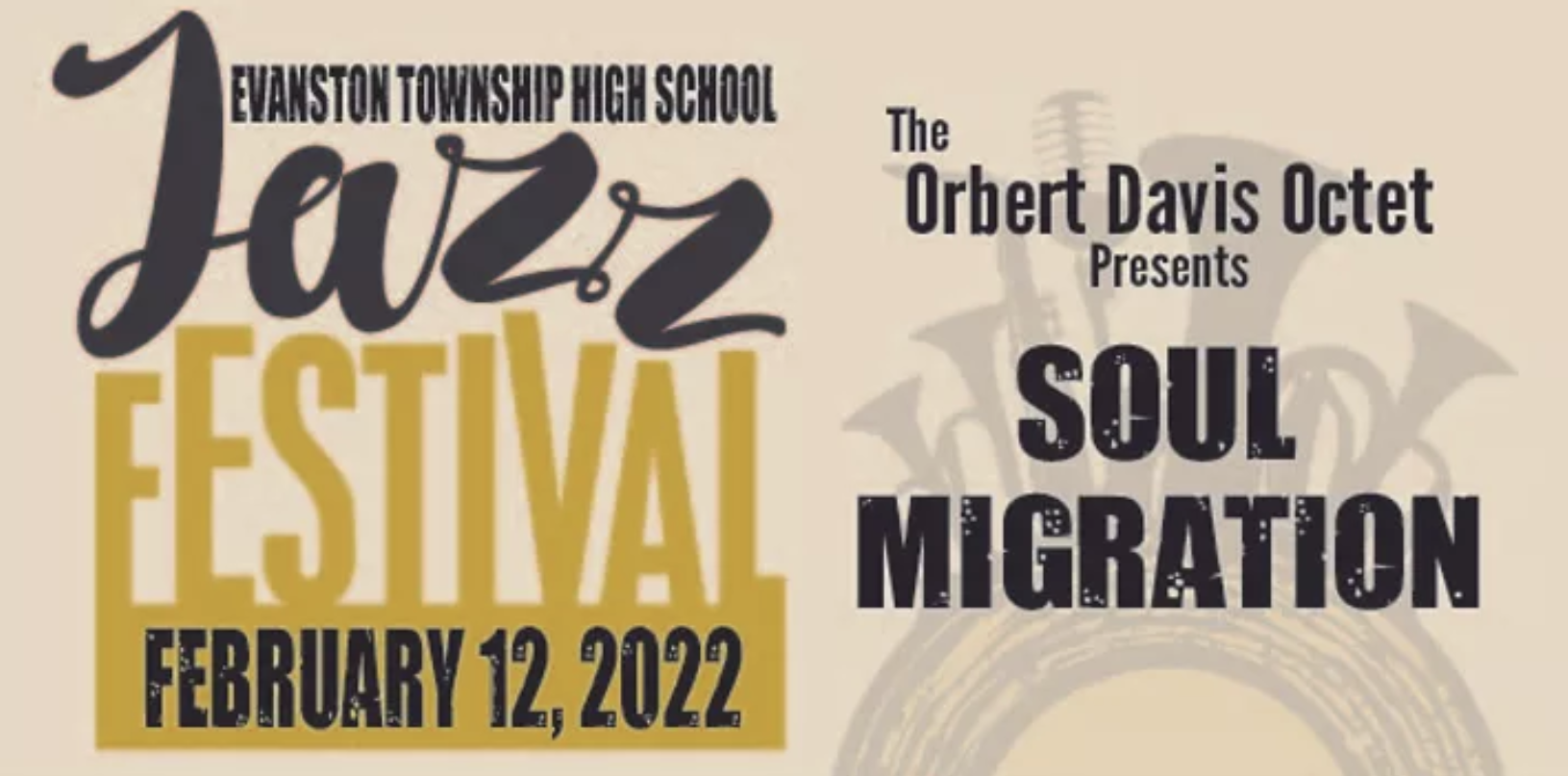 SATURDAY, FEBRUARY 12, 2022
7:00pm
Evanston Township High School Main Auditorium – 1600 Dodge Avenue
4:30PM SPECIAL PRESENTATION (MAIN AUDITORIUM): ORBERT DAVIS & MEMBERS OF SOUL MIGRATION OCTET
This special presentation will include insight on playing in big band/combo settings, improvisation techniques, composition, and more—including audience Q and A! Be sure to get your tickets for the evening performance featuring the Orbert Davis Soul Migration Octet with an opening performance by the ETHS Jazz Ensemble!
7:00PM FEATURED EVENING CONCERT (MAIN AUDITORIUM): ORBERT DAVIS SOUL MIGRATION
The ETHS Jazz Festival is excited to welcome Orbert Davis, jazz trumpeter and founder of the Chicago Jazz Philharmonic, as our evening talent and featured guest artist. Orbert's composition for the performance, titled "Soul Migration," draws on the stories of some of the 6 million African Americans who took part in what is known as the Great Migration, moving from the rural south to the industrial north beginning a century ago. Premiered at the 2016 Chicago Jazz Festival, "Soul Migration" features an octet of musicians from Orbert's Chicago Jazz Philharmonic.